I recently
Where are you from?
I'm from London, where I still live.
Do you have brothers or sisters?
Yes I have a younger brother.
When is your birthday?
My birthday is on March 7th, which this year was World Book day and I celebrated by having a book launch party for King Leonards Teddy.
Whats your favourite animal?
That is a very difficult question, I have a cat at home but out the wild animals there are too many to choose from! I love seals, they are one of the biggest wild animals in the Uk and are so playful when they've swimming.
How did you get your drawing style?
I just try and draw the best that I can in the way that feels most natural to me. 
Have you made any more books?
I am working on my second book with Child's Play right now! I look forward to sharing more details about it soon…
What is the most endangered animal that you want to bring back?
Again this is a very difficult question as sadly there are a lot of animals that are endangered as a result of human's activity. Often there is a lot of focus on big animals like elephants and tigers that are endangered but just as important are the smaller less glamorous ones, insects that pollinate our foods for example are very important to the eco-system.
Do you recycle?
Yes I recycle as much as I can but it still takes up electricity and other resources to recycle so it is even better to try reducing our consumption in the first place.
What is your hobby?
Apart from drawing I also love relaxing in nature, especially by the sea!
Where do you make your art?
I like to go out with my sketchbook to draw and collect ideas but most of my art is made back in my studio at home.
Will you be able to save the environment?
I hope that if everyone makes a big effort that we can reverse some of the negative impact that human activity has had on the environment. I'm impressed by the youth strikes that are happening at the moment, and governments seem to be beginning to change but we need to keep the pressure on so that they act now to protect all of our futures.
How do you feel about the Dictionary?
The dictionary is a good collection of words and can help you find out the meanings of words, but it doesn't have everything, I heard recently that some nature words have been left out of the children's dictionary because they are not being used enough!

How can we help the environment?
There are lots of ideas for this at the back of King Leonard's Teddy!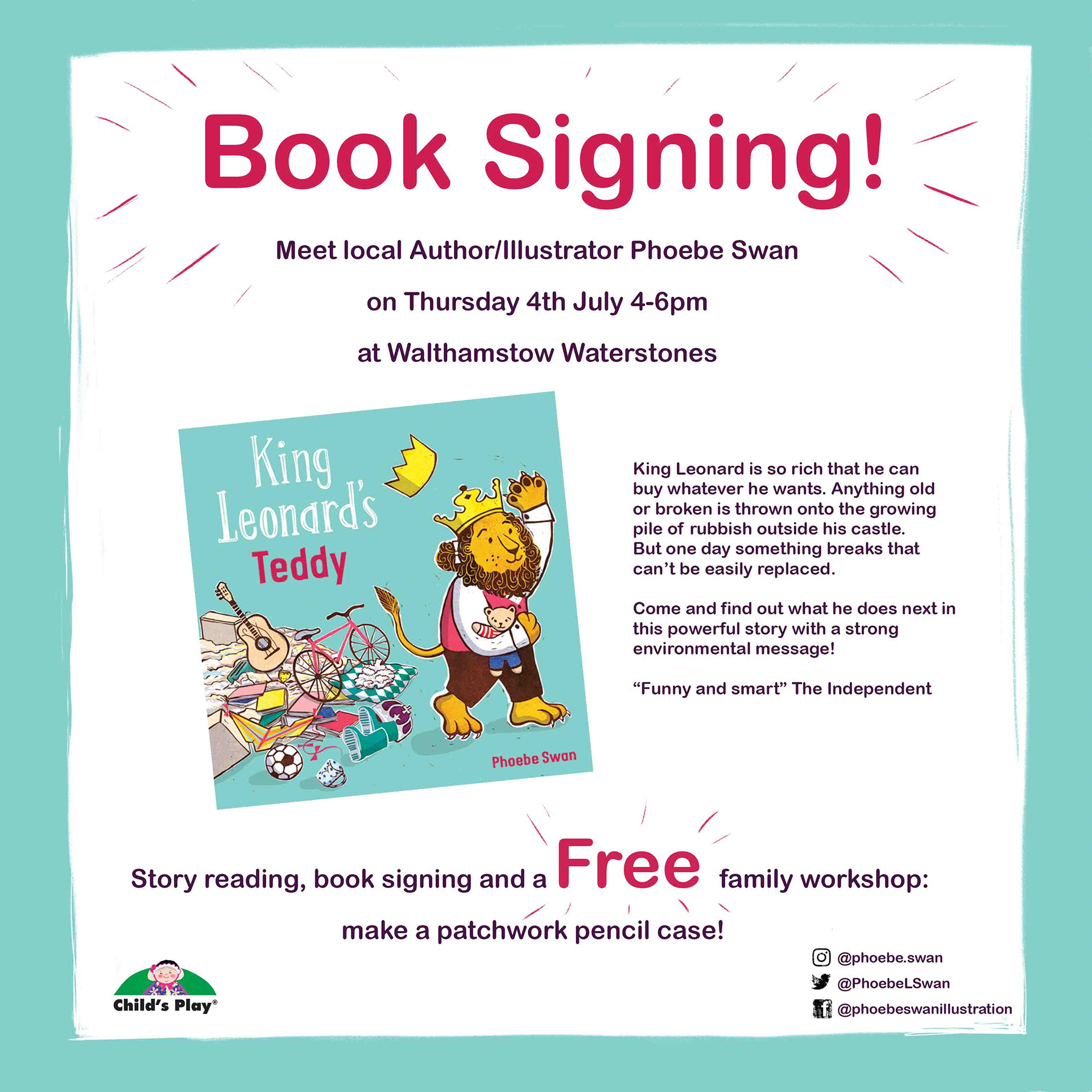 March 2019: King Leonard's Teddy Book Launch, Dalston Curve Garden